Product Description:
The Simple Wishes Hands Free Breast Pump Bra provides convenience to mothers while they are pumping breast milk, leaving their hands free to do other tasks or simply take a break and relax. This comfortable and stylish soft pink bra features an adjustable band for a custom fit throughout your nursing period. The Simple Wishes Hands Free Breast Pump Bra is available in two adjustable sizes; XS/S/M and L/XL/XXL. See size chart for specific details.
Simple Wishes Bustier
allows multi-tasking moms the chance to be more productive while they pump, or simply to take a breath and recapture a moment for themselves. Stylish and functional, and grounded in innovative, thoughtful design, the Bustier is an affordable and quality alternative to the fussy and unflattering hands free alternatives on the market.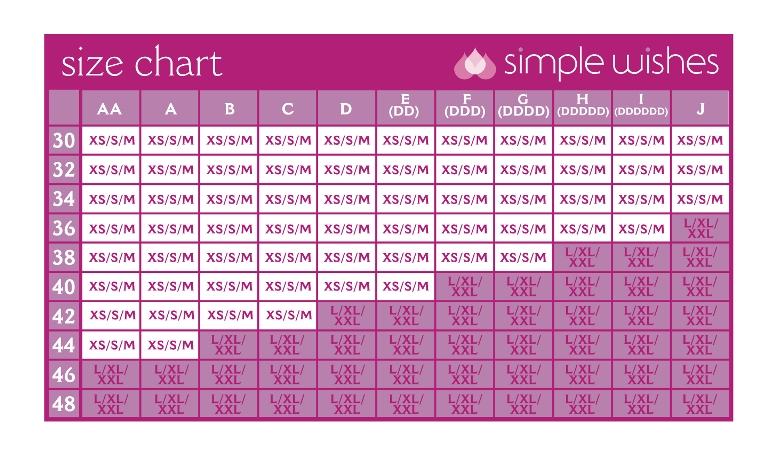 Product Features:
1. Adjustable in size: Maintain a tight fit over time with 10" adjustable velcro back panel.
2. Maintain a tight seal: Center panel allows 2" of movement for proper positioning of breastpump flanges/bottles..
3. Four way layering support system: Secures and maintains a tight seal of breastpump flanges/bottles.
4. Designed to work with all major manufacturers electric breastpumps.
Product Benefits:
1. Helps New Moms Multitask While Pumping:
Breastfeeding mothers who need to pump on a regular basis know how time-consuming it can be. The Simple Wishes Hands Free Breast Pump Bra gives mothers more freedom during pumping by holding the bottle firmly and securely, so mothers can keep their hands free for other tasks. With this bra, mothers can type, talk on the phone, or read a magazine while they pump. An added bonus, the bra's secure bottle-holding design helps reduce milk spillage, making for easier, more efficient pumping and increased breast milk production.
2. Comfortable and Versatile:
This machine-washable bra is made of 83% soft cotton and 17% spandex for lasting comfort. Plus, its seams have been designed specifically so that they do not irritate sensitive skin areas. The Simple Wishes Hands Free Breast Pump Bra can be used with all major brand electric breastpumps and accommodates the pumping of both breasts simultaneously. For added versatility, the bra's convertible design allows it to be worn as a bustier, halter, or racer-back-style undergarment.
3. Adjustable to a Nursing Woman's Changing Shape: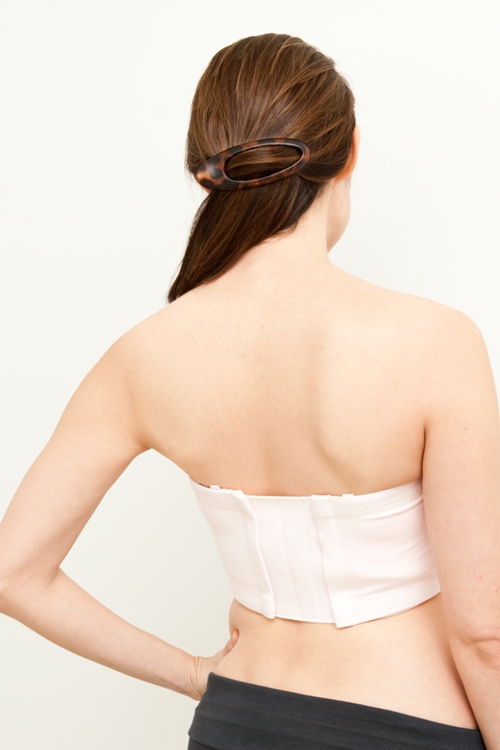 Designed with a nursing woman's body in mind, the bra's back panel can adjust its width by up to 10 inches, while the optional front zipper panel provides two inches of additional maneuverability between the breasts. This combination will allow mothers to customize the bra to their changing breast shapes during their entire nursing peri
How to take care of your hands free pumping bra?
Machine wash cold, gentle cycle, non-chlorine bleach when needed. Wash with like colors. Wash with back velcro panel attached. Hang to dry. Do not iron. Do not dry clean. Wash before wearing. It is 83% cotton, 17% spandex, exclusive of trims.
About Simple Wishes:
Empowering Mothers with Simple Solutions!
Simple Wishes was founded by four sisters-and mothers-who can each relate to the joys and challenges of being a new mom. Bringing their diverse career backgrounds together, this dynamic foursome strives to create mother-friendly products for the modern woman.
Using their core product, The Simple Wishes Hands Free Breast Pump Bra, as a launching-pad, this company of creative momtrepreneurs plans on growing into a full lifestyle brand that continues to empower the mothering community. The Simple Wishes mission is to offer simple solutions: innovative products that help women succeed at parenting confidently while living a well-balanced, active, and courageous life. They believe a happy mom equals a happy baby and a happy family.