Wearing your baby in the Moby D wrap is simple, comfortable and easy! See the video demonstration (opens to another page on this website).
Moby D wraps by Moby Wrap are gorgeous and unique. Each fabric combination is a beautiful way to hold your baby close. The added fabric accent panel in the middle of the wrap offers a little extra support for baby. Fleece accents provide a bit of extra warmth for cold climates. Silk or handwoven accents are decorative and provide extra support while still being very breathable.
Dressy enough for any occasion, the silk accented wraps are perfect for weddings and other formal occasions while still being stylish and durable enough for every day wear. The fleece accented wraps are great for walking or shopping in cool weather.
Choose from a wide variety of styles, there is a Moby D for everyone!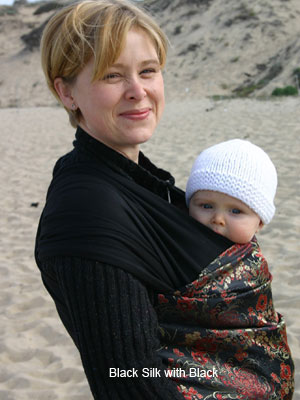 Just like the Moby Wrap, the Moby D comes with a full color instructional booklet so you can easily learn to carry your baby close to your heart. Moby D wraps are safe and secure, while freeing both of your hands for shopping, eating, housework or supervising older children.
| | | | | |
| --- | --- | --- | --- | --- |
| | | | | |
| Black Silk with Black | Black with Sage Silk | Black with Blue Silk | Black With Red Silk | Sky Blue Fleece with Indigo |
| | | | | |
| Chocolate and HandWoven Stripes | Charcoal Gray Fleece with Navy | Red with Pale Woven Stripes | Lilac Silk with Lilac | Natural Fleece with Natural |