Bummis cloth diaper kit offers a quick start way to try out cloth diapers at a great price. The Bummis cloth diapering kit offers a cloth diaper package deal that will get you started easily. You'll get everything you need to start cloth diapering your baby with soft, reusable cotton diapers without any fuss. Bummis has taken their popular diaper kits and boxed them up for a fool-proof system to get you started with cloth diapering your baby.
The Bummis Cloth Diapering Kit comes in two sizes.
Infant fits from about 8-15 pounds. Enough diapers for 3 days of diapering your new baby. No need to wash more often!
Included in the Infant size (small) kit:
* 24 incredibly thick and thirsty unbleached organic cotton prefold diapers (4x8x4 layers)
* 4 small Super Whisper Wrap waterproof diaper covers
* 2 small Super Brite waterproof diaper covers
* 3 Rolls of Flushable Diaper Liners (just dump messes into the toilet, no need to rinse diapers!) (300 liners total!)
* 5 reusable fleece liners
* 1 Fabulous wet bag, large (for use in your diaper bag)
* Bummis illustrated User Guide with instructions for adjusting diapers to fit your baby and washing information
Baby fits from about 15-30 pounds. Enough diapers to last 2-3 days (older babies need changing less often than newborns).
Included in the Baby (15-30 lbs. kit):
* 18 gorgeous unbleached pre-fold diapers (4x8x4 layers)
* 2 medium Super Whisper Wrap waterproof diaper covers
* 2 medim Super Britewaterproof diaper covers
* 5 reusable fleece liners
* One Roll of Flushable Diaper Liners (makes cleaning up messes so much easier!)
* 1 Fabulous Wet Bag, large
* Bummis illustrated User Guide with instructions for adjusting diapers to fit your baby and washing information
Most babies fit in the small size from shortly after birth until about 4-5 months or so. The large size should fit from about 4-5 months to toddlerhood. With proper care and washing, these diapers will last through more than one baby - saving you even more money! Bummis user guide makes it so easy to cloth diaper your baby.
These cloth diaper packages make a great baby shower gift!
Flat rate shipping offer for this item applies ONLY to the continental US. Bummis items may only be shipped to the US, no international sales are allowed.

Winner of the iParenting Hot Product & Awards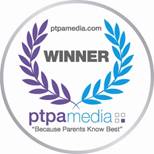 | size | |
| --- | --- |
| Infant | 8 - 15 lbs / 4 - 7 kg |
| Baby | 15 - 30 lbs / 7 - 14 kg |
Our layaway offers you the opportunity to get the products you need on a payment plan. Using cloth diapers saves money, but we understand that getting your initial cloth diaper stash can be hard when you are short on cash. Our cloth diaper layaway plan allows you to spread the cost out over 3 months.
Select the items you need, then use the voucher code "LAYAWAY" when you checkout. You'll only be charged 25% of the cost of your order. I will set your items aside until they are paid for.
You will then be responsible for paying 25% each month for the next 3 months. If you do not finish paying for your order within 90 days you can apply any amount you have paid as store credit or you will receive a refund of current paid amount less a 20% restocking fee.
You can make payments on your layaway items with PayPal by putting "Layaway" and your name in the subject of the payment. The email address for Paypal is lisa@littlefornow.com. You can also pay with check or credit card. Please call us at 1-877-536-0850 for more information.
Certain items are dropshipped (cosleeper, etc.) from the manufacturer. These items are not actually ordered until the payment is made in full. In rare cases a manufacturer may change or discontinue a product during the payment period. If this happens and the product or a reasonable substitute (such as a different color) is not available then a refund will be issued.